Transporting Wind Power Equipment
Vietnam is in the top 10% of windiest areas in the world with an average wind speed of 7.2 m/s at an altitude of 100m. Therefore, the utilization of wind power energy uses wind power to operate turbines that rotate the blades to create electrical energy
According to the calculation of the Global Wind Energy Council, the wind power potential onshore of Vietnam about 24GW. In Vietnam, the investment cost ratio of wind power has decreased to cheaper than coal since 2017, which shows that renewable energy is the best source of cheap energy on the basis of Decentralized Energy Cost. (LCOE). Renewable energy companies such as Vestas, Goldwind, Envision, Sungrow, etc. not only market the latest technology wind turbines, but also directly invest in many onshore wind power projects and power planning. nearshore and offshore wind, which has exploded the demand for wind power transportation.
1. Requirements on equipment of wind power projects
All towers and wind power equipment are manufactured abroad and imported to Vietnam by sea. From the port, wind power equipment will be transported by trailers and tractors to the construction site. On average, a 30 Megawatt wind farm in Central Vietnam is equivalent to the volume of transportation of 130 trucks divided into several turns, a total of 600 trips and two seagoing ships to complete the process of transporting wind power from the port to the port. installation site.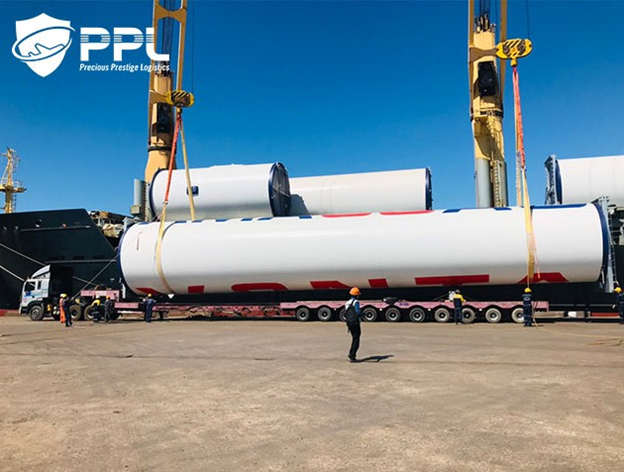 Photo: Transporting wind turbines

Wind turbines are very large with many complex components. A wind power tower can be from 80m to more than 200m high. Wind turbines have diameters from 3m to 5.5m.
2. Special requirements for wind power equipment carriers
For onshore wind power, units need to provide all solutions for transporting wind power projects at all levels, from as simple as shipping. equipment and supplies to package logistics services from the port to the construction site. Package logistics services for onshore and offshore wind power projects include:

● Surveying, planning,
● Obtaining transportation permits,customs clearance clearing
● Loading and unloading super-heavy wind turbine blades,
● Logistics and transportation management,
● On-time delivery of all equipment wind power to the foot of the building.

Transporting a wind turbine with a super-heavy mass and size (putting a backlink on the super-heavy transport service) requires careful and thorough planning because the equipment is not only large and heavy, but also many details.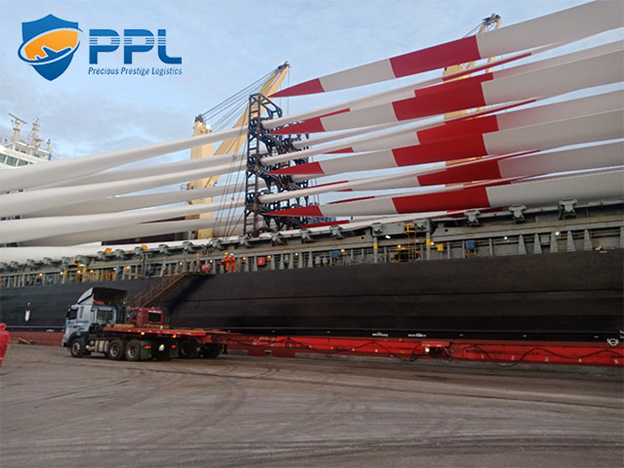 Photo: Transporting wind power propellers

We have to transport the whole project from large components such as: wind turbine blades, hubs, wind power towers, transformers, nacelles, pillars and all auxiliary components such as: Transformer cooling devices (pump stations, radiators, pipes, cables), wind masts, mast lifts, spoilers, elevators, refrigerants, fan assembly coolers, tower cabinets, auxiliary transformers, tools , spreader, wheel block, segmented suspension beam, automatic fire extinguishing device, gyroscope, bib, central cover hub, transmission machine, crawler crane and nacelle crane…
3. PPL is proud to be an experienced unit in transporting wind power equipment
Thanks to in-depth knowledge in the domestic market, many specialized vehicles, extensive experience and close relationship with seaports, PPL has become a leading partner in the field of onshore wind power transportation and transportation. offshore in Vietnam

Therefore, we guarantee a one-stop solution for customs clearance, saving time and minimizing costs of anchoring, storage and yard, thereby optimizing costs for customers.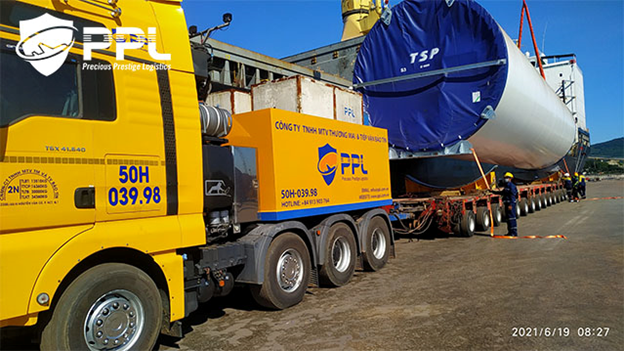 Photo: Experts are carrying out turbine transport works

PPL constantly updates the latest technologies and techniques, and uses specialized equipment, so customers always trust PPL to deliver many important wind power projects such as Huong Linh 4, Amaccao 1,2,3, Dak Nong, Dak Lak, etc. With more than 50 seasoned transportation engineers working on projects throughout Vietnam, PPL not only provides the most modern and optimal transportation solution, but also safely with optimal cost. and fast. PPL is one of the few transport units in Vietnam that have been tested and granted ISO certification (setting backlinks for certification) with a team of engineers and operators with extensive experience in the industry. wind power, so every PPL wind power project transported will satisfy customers.

Contact Head office:
Long Son, Ky Long, Ky Anh, Ha Tinh, Vietnam

+84 2393 864858 / +84 2393 864859

info@ppl.com.vn

www.ppl.com.vn