Factory and Equipment Removal
Changing production locations when business or Scaling up production may require relocation of part or all of the plant and equipment. To do this requires large transportation costs, time and effort, and can even disrupt the production process. Therefore, when managers have this intention, they need to find a transport unit that is capable and suitable for the requirements.
1. Requirements when relocating plant and equipment
The relocation will be done in stages or once, depending on the customer's request.
The new factories are built and designed in a modular format: machine parts are easily disassembled and put together, transportation and installation are quick, efficient, and safe.
The old design factories are not like that, so dismantling, transporting and installing are very difficult. Therefore, it is necessary to handle the components very carefully throughout the entire process from preparation to transportation, handover
Plant location and delivery yard is always an important factor in factory relocation projects. The location of the plant in an industrial, rural or urban area will affect the pick-up schedule, the mode of transportation, the associated safety regulations, and the length of the production interruption.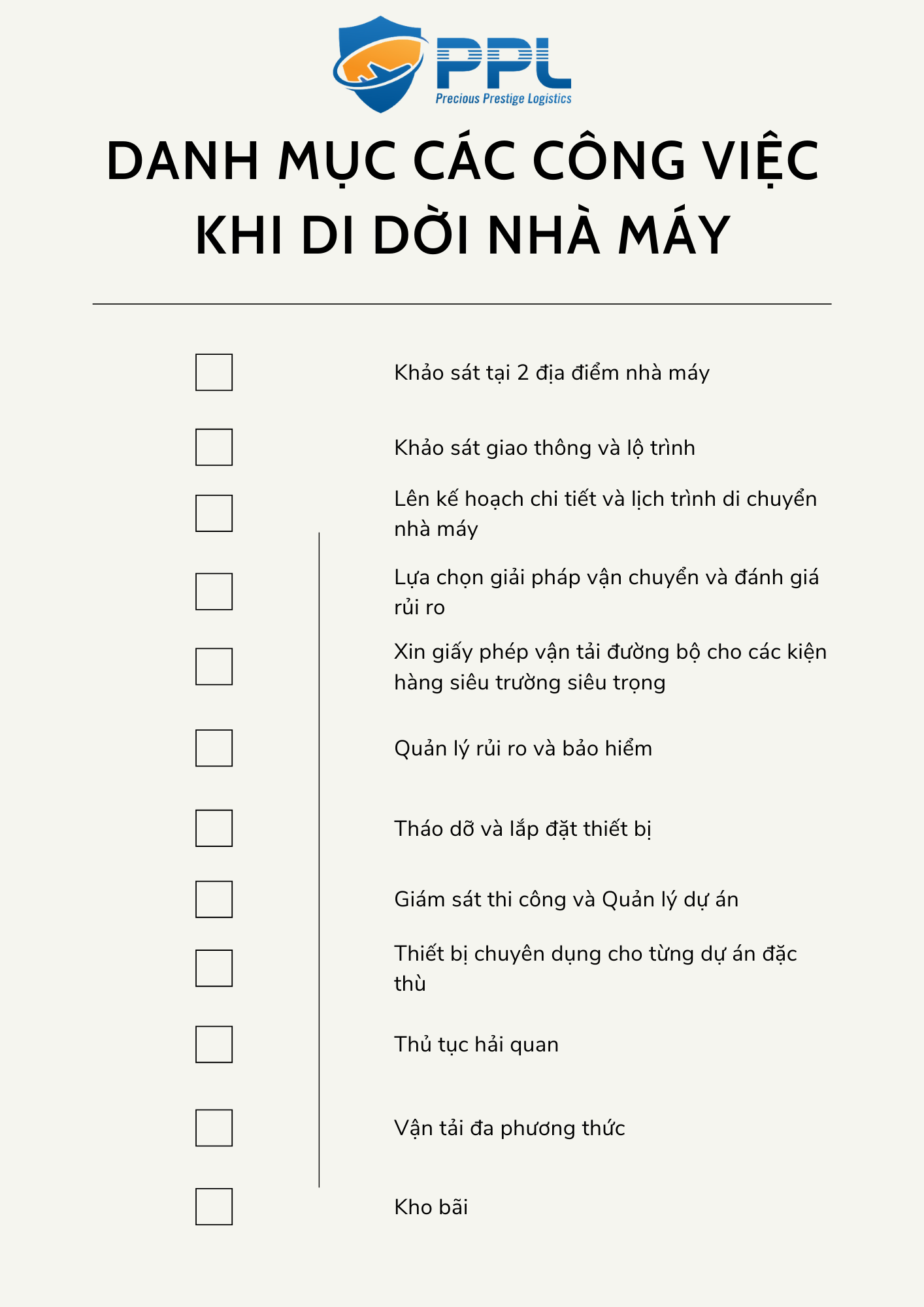 Photo: Check list of implementation tasks
2. Factors to evaluate a satisfactory carrier
Unlike the transportation of normal goods, the relocation of plant and equipment requires to be carried out by a unit with experience and competence in:
- Fleet of vehicles
- Team of tools
- Team of workers Employees
- Estimated time to deploy
3. PPL provides diversified and comprehensive solutions for projects
PPL provides a variety of solutions from relocating the entire factory to transporting each piece of equipment from the production site to the operating workshop, ensuring the safety of the equipment with optimal cost and minimum time. .

To carry out a safe and efficient factory relocation is a combination of both human factors and modern machinery and equipment along with in-depth understanding to provide solutions to any plant relocation requirements, equipment, and will be completed safely, cost-effectively and on schedule. PPL has: A
team of experienced
professionals Modern, diverse and complete specialized vehicles: MAN tractors, trailers, trailers, dwarf trailers, SMPT self-propelled hydraulic trailers, SPT self-propelled trailers ... are some of the many modern devices of PPL.
All specialized equipment is regularly checked and maintained to ensure safety.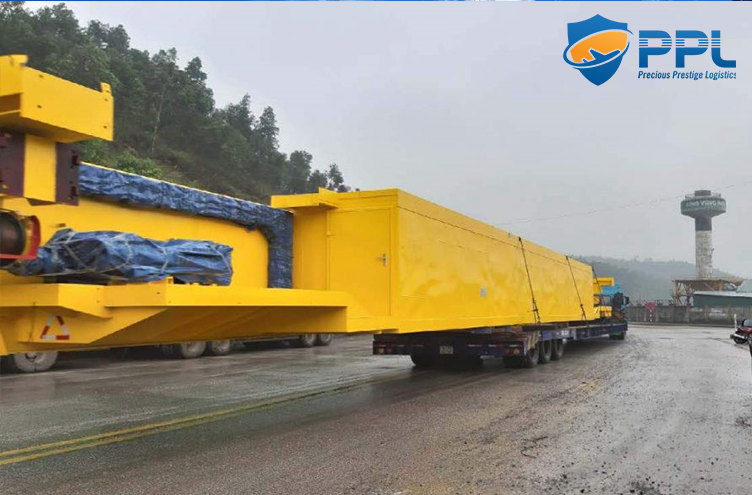 Photo: Transporting equipment to Formosa Ha Tinh factory.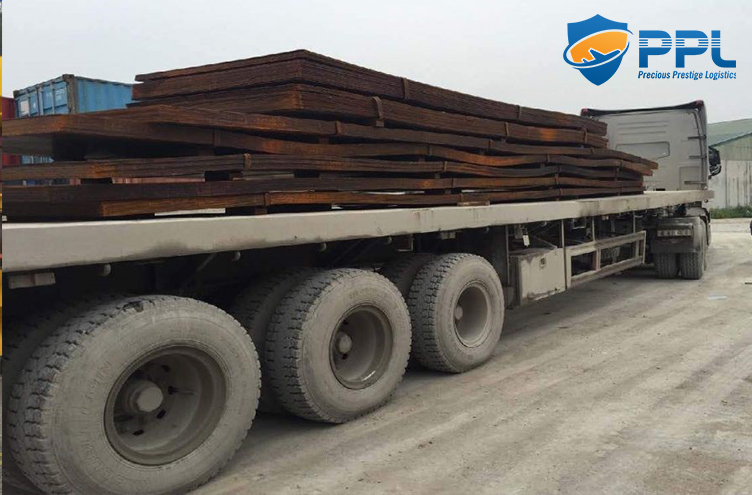 Photo: Transporting equipment for Thanh Thang cement factory.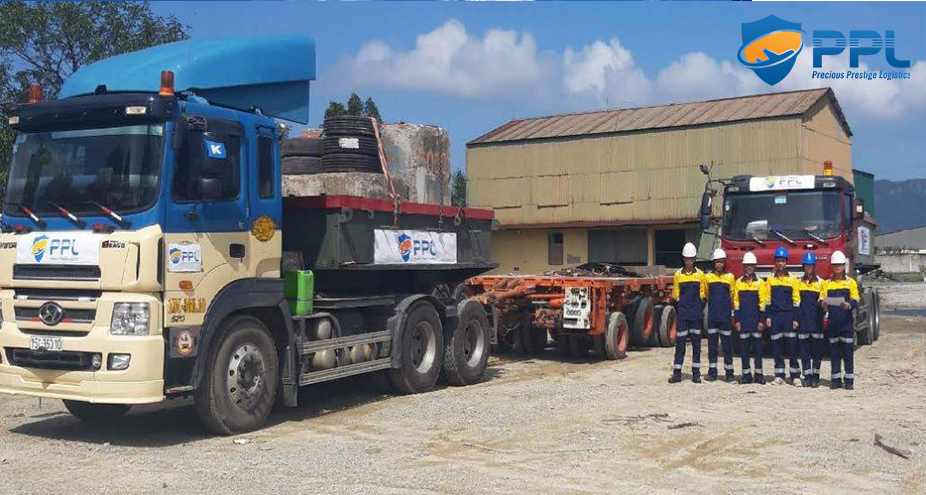 Photo: PPL's ​​team of experts and equipment

In Vietnam, PPL has transported all equipment of Formosa Ha Tinh from Vung Ang port to the construction site. We finished 15% earlier than planned. Most importantly, the SMPT self-propelled hydraulic trailer promotes the safe transportation of super-heavy goods, especially in the industrial zone.

Contact Head office:

Long Son, Ky Long, Ky Anh, Ha Tinh, Vietnam

+84 2393 864858 / +84 2393 864859

info@ppl.com.vn

www.ppl.com.vn